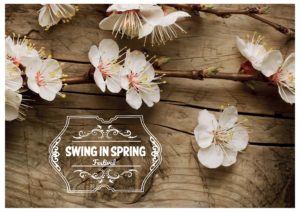 SWING in SPRING Festival 3^ edizione.
Firenze – ITA
16-17-18 Marzo 2018
>>>>>ENGLISH VERSION BELOW<<<<<<
Dopo il risultato ottenuto nell' anno 2017, SWINGIN'UP ha l'onore di presentare:
——SWING in SPRING Festival 2018 —–
Non vi sveleremo tutto e subito, ma quello che vi possiamo dire adesso è che avremo:
3 Party+ 2 live band + 6 dj set + 2 giorni di workshop con artisti internazionali divisi per livelli e discipline.

TEAM INSEGNANTI
FILIPPO Buccomino & TIZIANA Sperzagni (ITA)
NILS Andren & BIANCA Locatelli (SVE)
WILLIAM Mauvais & MAEVA Truntzer (FRA)
LIVE BAND:
Al & the boys – (R'n'R)
Anita & the Bouncebits – (Swing)
DJ SET
Crazyfinger
Big Daddy
Red Moon
Enry Sold Out
Mister Dip
LOCATION
Hotel Delta Florence
CONTEST:
Stricly Lindy Hop – open/ advance
Stricly Boogie-woogie – open / advance.
>>>>>ENGLISH VERSION<<<<<<
"SWING in SPRING Festival" 3rd Edition.
Florence – ITA
March, 16-17-18, 2018
After the experience of 2017, Swingin'up is honored to introduce to you:
———-SWING IN SPRING FESTIVAL 2018———-
Richer of surprises and news than past years. We don't reveal everything right now, but we can announce the presence of:
3 party + 2 live bands + 6 dj sets + 2 days workshop with different levels and disciplines!
TEACHERS TEAM
FILIPPO Buccomino & TIZIANA Sperzagni (ITA)
NILS Andren & BIANCA Locatelli (SVE)
WILLIAM Mauvais & MAEVA Truntzer (FRA)
LIVE BAND:
Al & the boys – (R'n'R)
Anita & the Bouncebits – (Swing)
DJ SET
Crazyfinger
Big Daddy
Red Moon
Enry Sold Out
Mister Dip
LOCATION
Hotel Delta Florence
CONTEST:
Stricly Lindy Hop – open/ advance
Stricly Boogie-woogie – open / advance